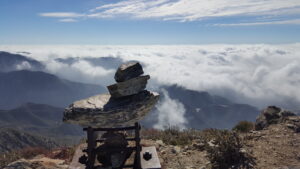 Objective: Summit Josephine Peak, San Gabriel Mountains, California
Distance: 8.2 miles (out and back)
Peak Elevation: 5,558′
Elevation Gain: 2,100′
Difficulty: Moderate
Josephine Peak is an entryway to the front range of the San Gabriel Mountains National Monument. The Colby Canyon Trail follows Colby Canyon up to Josephine Saddle. From the saddle, you can hike to Strawberry Peak, Josephine Peak, or both.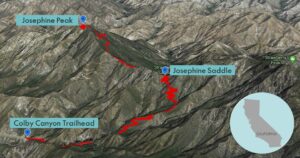 Directions to Trailhead
From the 210 East in La Cañada, drive 9.5 miles on Angeles Crest Highway (CA-2) until the Angeles Forest Highway intersection. Continue driving one mile (passing the Switzer parking area on the right) on CA-2. There are two small dirt lots on the north side (left) of the road at Colby Canyon, marked with trailhead signs and distances.
Directions to Summit
Trailhead: From the trailhead, the Colby Canyon Trail enters Colby Canyon.
0.80 miles: The trail crosses the stream again and gently rises.
2.01 miles: At Josephine Saddle, turn left, and head west along the Strawberry Spur Trail.
2.60 miles: When the trail meets a fire road, keep to the right. Follow Josephine Peak Road to the summit.
4.10 miles : You have reached Josephine Peak. Turn around and head back.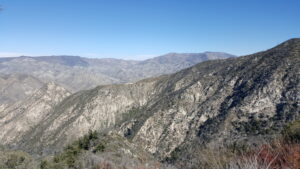 Trek Highlights
The first section of the hike is shady and crosses the stream a couple times. The second section climbs up and out of Colby Canyon through rolling green hills. Then the trail climbs steeply up a small wall of switchbacks to Josephine Saddle. There is a water tank at Josephine Saddle. The final section heads west along the flat saddle ridgeline and then rises to the peak.
At the summit, there is a small building with broadcast antennas. Above that, there are remains of a lookout that burned in the fire of 1976. From here, you can see Strawberry Peak and Mt. Wilson.
Remember to bring plenty of water as most of the hike is extremely exposed to the sun. Long pants are a good idea as there are many poisonous plants on this hike.
Red Tape
Display your adventure pass.
Factoids
The peak is named for the daughter of Phil Beque, a ranch owner who lived in the vicinity.
Photos