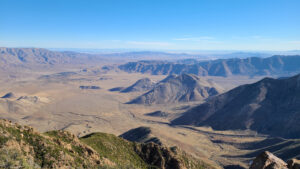 Objective: Summit Garnet Peak, Laguna Mountains, California
Distance: 2.4 miles (out and back)
Peak Elevation: 5,880'
Elevation Gain: 571'
Difficulty: Easy
Garnet Peak glimmers from its spectacular perch in the Laguna Mountains with vistas normally reserved for mountains twice as high. The Laguna peaks are encrusted atop a steep escarpment beside Anza-Borrego's vast badlands to the east.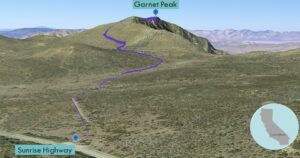 Directions to Trailhead
Head south on the 5. At Torrey Hills, merge onto the 805 S and drive 10.7 miles. Take exit 17B to merge onto the 8 E and continue for 40.5 miles. Take exit 47 and turn left onto Sunrise Highway. Drive 14.2 miles. Park on the right next to a gate by the trailhead.
Directions to Summit
Trailhead: Begin hiking on the Garnet Peak Trail.
0.61 miles: At the junction with the Pacific Crest Trail, keep left to stay on the trail.
1.2 miles: You have reached the peak. Turn around and head back.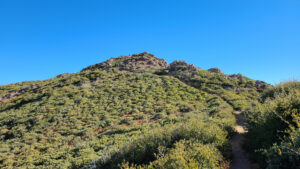 Trek Highlights
The path is rocky from the start. Golden stalks border the trail, which is level and surrounded by short vegetation.
After crossing the Pacific Crest Trail, there is a little climb. For a five thousand-footer, Garnet Peak provides great value for your effort. The summit block is rocky, which requires a little bouldering. The views are phenomenal for miles in every direction. This mountain is clearly punching above its weight class.
Red Tape
Display your adventure pass.
Photos