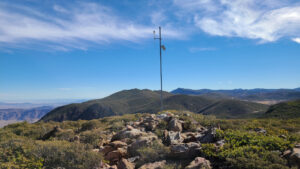 Objective: Summit Garnet Mountain, Laguna Mountains, California
Distance: 0.8 miles (out and back)
Peak Elevation: 5,680'
Elevation Gain: 230'
Difficulty: Easy
Kwaaymii Point is one of the jaw dropping viewpoints on the Laguna escarpment. Take a quick jaunt to the top of Garnet Mountain. While you are on Sunrise Highway, climb to the top of Garnet Peak and Monument Peak.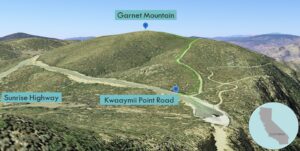 Directions to Trailhead
Head south on the 5. At Torrey Hills, merge onto the 805 S and drive 10.7 miles. Take exit 17B to merge onto the 8 E and continue for 40.5 miles. Take exit 47 and turn left onto Sunrise Highway. Drive 16.7 miles. Make a sharp right turn at Kwaaymii Point. Park at the end of the road. Do not start at the Pacific Crest Trail (PCT) trailhead. From the parking area, walk toward Sunrise Highway until you see a gate on the right.
Directions to Summit
Trailhead: From the gate with no sign, follow the trail that is parallel and to the west of the PCT.
0.32 miles: Leave the trail, and go cross country to the summit.
0.41 miles: You have reached Garnet Mountain. Turn around and head back.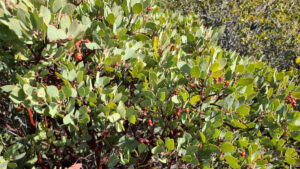 Trek Highlights
Simply march up the straight rising path. There are low green shrubs on each side.
At a high point in the trail, leave it, and weave cross country to the summit. With all this shrubbery on the slope, Monty Python's Knights Who Say "Ni!" would be satisfied. At the summit, there is some sort of sensor on a post.
Red Tape
Display your adventure pass.
Photos