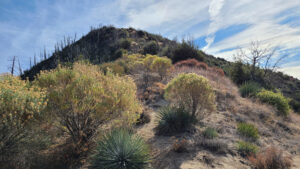 Objective: Summit Fox Mountain #2, San Gabriel Mountains, California
Distance: 12.6 miles (out and back)
Peak Elevation: Fox Mountain: 5,033'
Elevation Gain: 3,000'
Difficulty: Strenuous
The western edge of the San Gabriel Mountains does not receive much traffic or attention. While the trails are more accessible to the metro area, they are long and hot sufferfests. The climb to Fox Mountain #2 is no exception, with plenty of elevation gain, distance, and sunshine. If you are feeling energetic, you can add 3 miles and about 1,000' to climb Condor Peak.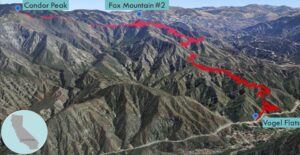 Directions to Trailhead
From the CA-2 N in La Cañada, head north on the 210 W. Take exit 11 for Sunland Boulevard. Turn right onto Sunland Boulevard and drive 0.7 miles. Make a left onto Oro Vista Avenue and drive 0.9 miles. Turn right onto Big Tujunga Canyon Road. Drive 6.7 miles. You will pass the Trail Canyon parking, Doske Road, Vogel Flats Road, and two turnoffs on the right. Park on the second turnoff (which leads to a helipad). The trailhead is on the northern side of the road. It is unmarked and hard to spot.
Directions to Summit
Trailhead: From the trailhead, take the immediate fork to the right, which quickly climbs the Vogel Flats Trail.
0.32 miles: At the junction, make a sharp left onto the Condor Peak Trail.
6.1 miles: Look for a use trail. Head south to the summit.
6.3 miles: You have reached Fox Mountain #2. Turn around and head back.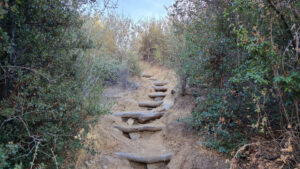 Trek Highlights
From the trailhead, do not get tangled in the brush straight ahead and off-trail. Follow the immediate fork to the right, which rises right away along the Vogel Flats Trail. The path runs parallel above the road, and it is narrow so watch your step. After 0.3 miles, take a sharp left; do not continue straight as it leads back to the road.
After clinging to the edge for the first miles, the trail crosses a narrow ledge with drops on each side. Near the 3-mile mark, there is a tiny "waterfall" with bees and blue dragonflies. The trail jumps from one minor ridge to another and is surrounded by green slopes in every direction. In one of the drainages, you duck beneath a log in Fusier Canyon's creek. To the east, you can see the green water of the Big Tujunga Reservoir. Even in November, the exposed trail gets really warm.
Once you reach Condor Ridge, turn right up a use trail with slippery dirt and tiny ball bearing-sized gravel. The climb is so steep, it is like sliding down a chute in the game, Chutes and Ladders. Trekking poles are a lifesaver here. From the summit, you can see Strawberry Peak to the east, Mt. Lukens to the south, and Condor Peak to the west.
Red Tape
Display your adventure pass.
Photos