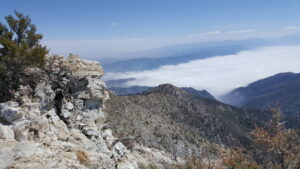 Objective: Summit Etiwanda Peak, San Gabriel Mountains, California
Distance: 13.2 miles (out and back)
Peak Elevation: 8,862′
Elevation Gain: 4,600′
Difficulty: Strenuous
Etiwanda Peak is overshadowed by its illustrious neighbor to the west, Cucamonga Peak. It is a half mile further, but in many ways may be more scenic. So bypass Cucamonga or climb them both.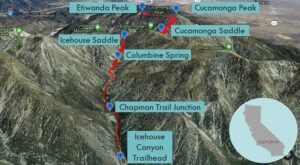 Directions to Trailhead
Head east on the 210, and exit Baseline Road in Claremont. Turn left on Baseline Road. Turn right on Padua Avenue. In 1.7 miles, turn right onto Mt. Baldy Road. In 7.2 miles, go past Mt. Baldy Village. Continue 1.5 miles and turn right at Icehouse Canyon Road. The trailhead begins at the opposite end of the parking lot entrance.
Directions to Summit
Trailhead: The hike begins on Icehouse Canyon Trail.
1 mile: At the Chapman Trail junction, continue ahead on Icehouse Canyon Trail.
1.8 miles: There is a sign for the Cucamonga Wilderness.
2.4 miles: Columbine Spring is on the north slope above the canyon.
3 miles: At the second Chapman Trail junction, stay right on Icehouse Canyon Trail.
3.6 miles: At Icehouse Saddle, choose the Cucamonga Peak Trail. A little bit later at the Middle Fork Trail, stay on the Cucamonga Peak Trail to the right.
4.4 miles: After going around Bighorn Peak, the trail reaches Cucamonga Saddle.
5.4 miles: Bypass the sign just below the spur trail to Cucamonga Peak. Keep left and continue to a saddle east of 8,603′.
6.4 miles: At the saddle, hike up the use trail.
6.6 miles: You have reached Etiwanda Peak. Turn around and head back.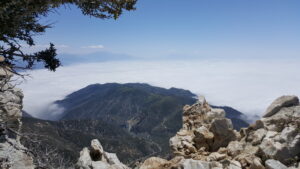 Trek Highlights
The creek-side Icehouse Canyon Trail is dotted with cabins; honey-scented, blue ceanothus; and covered with rocks and streams. At the start, there is a giant tree whose roots restrain giant boulders. After crossing the creek, the trail gently climbs to a big rock. After a long unbroken incline ascending up the slope, the trail begins to switchback like crazy just below Icehouse Saddle.
The stretch between Icehouse Saddle and Cucamonga Saddle is sunny and relatively flat, except for some switchbacks at the end. After the second saddle, it is an intense ascent until you reach a post marking the Cucamonga Peak turnoff. The trail levels off, takes a quick dip past a Manzanita slope to Etiwanda Saddle and rises a bit again.
Finally, you turn east up a steep yet well-maintained use trail. Atop, Etiwanda Peak, there is a limber pine and some large white quartz outcroppings hanging above a sea of clouds. Cucamonga is directly to the west, and Bighorn and Ontario are just behind it. The Three T's (Timber, Telegraph, and Thunder) Trail is directly north, followed by Harwood on the Devil's Backbone to Mt. Baldy.
Red Tape
Display your adventure pass. Fill out a Self-Service Wilderness Permit at the trailhead kiosk.
Factoids
Etiwanda is the easternmost of three unincorporated communities that became part of Rancho Cucamonga. In 1881, George and William Chaffey purchased the land from Joseph Garcia, a retired Portuguese sea captain. The town was named for a Native American tribe living on the shores of Lake Michigan.
Photos