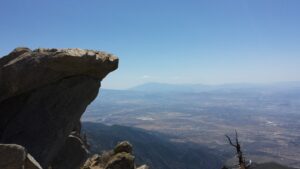 Objective: Summit Cucamonga Peak, San Gabriel Mountains, California
Distance: 12 miles (out and back)
Peak Elevation: 8,862′
Elevation Gain: 4,300′
Difficulty: Strenuous
This trail is a challenging climb through shaded paths, some rocky terrain, and a babbling creek up Icehouse Canyon. From Icehouse Saddle to Cucamonga Peak, the vegetation and sun protection is thin. On Cucamonga Peak, you have commanding views of the surrounding mountains as well as the Inland Empire immediately below and the sweeping expanse of the greater Los Angeles basin.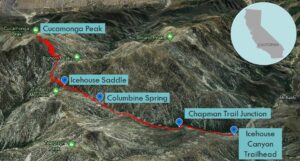 Directions to Trailhead
Head east on the 210, and exit Baseline Road in Claremont. Turn left on Baseline Road. Turn right on Padua Avenue. In 1.7 miles, turn right onto Mt. Baldy Road. In 7.2 miles, go past Mt. Baldy Village. Continue 1.5 miles and turn right at Icehouse Canyon Road. The trailhead begins at the opposite end of the parking lot entrance.
Directions to Summit
Trailhead: The hike begins on Icehouse Canyon Trail.
1 mile: At the Chapman Trail junction, continue ahead on Icehouse Canyon Trail.
1.8 miles: There is a sign for the Cucamonga Wilderness.
2.4 miles: Columbine Spring is on the north slope above the canyon.
3 miles: At the second Chapman Trail junction, keep right to stay on Icehouse Canyon Trail.
3.6 miles: At Icehouse Saddle, choose the Cucamonga Peak Trail. A little bit later at the Middle Fork Trail, stay on the Cucamonga Peak Trail to the right.
4.4 miles: After going around Bighorn Peak, the trail reaches Cucamonga Saddle.
6 miles: There is a sign just below the spur trail to the top. You have reached Cucamonga Peak. Turn around and head back.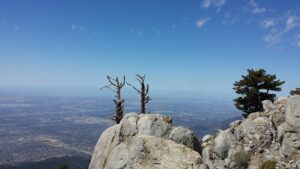 Trek Highlights
The Icehouse Canyon Trail begins by following a stream next to cabins and cabin ruins. In a mile, Chapman Trail splits off the main trail into Cedar Canyon. After crossing the creek, the trail gently climbs to the Cucamonga Wilderness sign and a giant boulder. There is a rocky patch. Then, the trail begins a long climb up the side of the canyon, with some switchbacks just below Icehouse Saddle.
From Icehouse Saddle, you can see the neighboring peaks. The saddle is a crossroads of six trails. Make sure to head southeast on the Cucamonga Peak Trail. The Cucamonga Peak Trail wraps around Bighorn Peak and reaches Cucamonga Saddle. The trail aggressively ascends short but steep switchbacks. After one last turn, there is a wooden post below the spur trail that shoots straight up to the peak. At the top, there is a photogenic rock formation shaped like an eagle's beak. From this perch, there are spectacular views of the greater Los Angeles basin.
Red Tape
Display your adventure pass. Fill out a Self-Service Wilderness Permit at the trailhead kiosk.
Factoids
In the 1860s, an ice plant in lower Icehouse Canyon supplied ice to valley residents. The name still applies as a cold breeze often blows through the canyon.
Photos