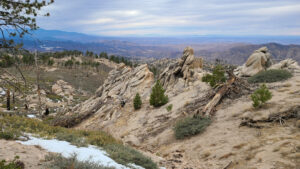 Objective: Summit Crafts Peak, San Bernardino Mountains, California
Distance: 7.8 miles (out and back)
Peak Elevation: 8,364'
Elevation Gain: 1,504'
Difficulty: Moderate
Crafts Peak has it all. Your journey to the top takes you past exotic rock formations, a babbling brook, dense forests, and a boulder scramble.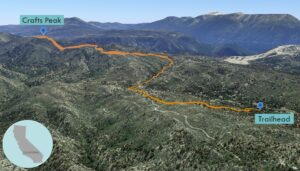 Directions to Trailhead
From the 210 East in San Bernardino, take exit 81 for CA-330 N toward Big Bear. Drive 15.7 miles to Running Springs. Continue on CA-18 for 2.6 miles. Turn left on Green Valley Lake Road and continue for 4.2 miles. At the intersection with Meadow Lane, continue on 2N13 for 358' and look for the northern fork for 2N13. The trail starts where 2N13 heads northeast.
Directions to Summit
Trailhead: Begin hiking on 2N13.
0.73 miles: At the junction, keep right to stay on 2N13.
1.01 mile: At the junction, turn right onto 2N13D.
3.9 miles: You have reached Crafts Peak. Turn around and head back.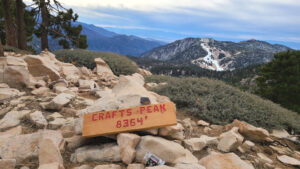 Trek Highlights
If the campground is open, starting there will shave a mile from the route described here. If you follow this path, you will be rewarded with rock formations and long views.
Forest Route 2N13D traverses a low-slung canyon with tall pine trees and a bit of snow on each slope. In late December, there are gray squirrels trotting on the icy patches of the trail. The middle section of this hike has the most impressive views of the lower ridges and ultimately the flatlands.
After a minor spike, the last mile provides a brisk climb to the summit. The trail fades away and the final few hundred feet becomes a narrow path through chaparral then up and over some boulders. Simply follow the well placed ducks to the Crafts Peak sign.
Red Tape
Display your adventure pass.
Photos