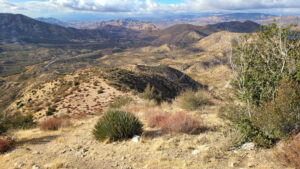 Objective: Summit Cole Point, San Gabriel Mountains, California
Distance: 2.8 miles (out and back)
Peak Elevation: 5,604'
Elevation Gain: 1,500'
Difficulty: Easy
The path to Cole Point is a nice introduction to cross-country hiking. Navigation is easy with just one ridgeline. The climb is steep, but not overgrown with vegetation.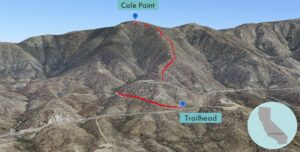 Directions to Trailhead
From the intersection of 210 E and Angeles Crest Highway (CA-2), drive 9.5 miles on CA-2 to Angeles Forest Highway. Turn left (north) and continue 14.2 miles to Mill Creek Summit. Drive 3 miles and pass Aliso Canyon Road (on the left). After 200 yards, look for mile marker 6.88, then park on the turnout to the left of the road. Cross the road to reach the post by the trailhead.
Directions to Summit
Trailhead: Follow the road to the ridge.
0.43 miles: At the junction, leave the road and follow the ridgeline to the summit.
1.4 miles: You have reached Cole Point. Turn around and head back.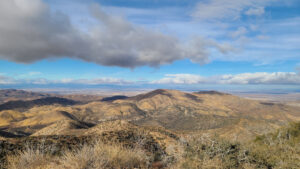 Trek Highlights
From the trailhead post, the sandy road with large holes and apple-sized rocks makes an immediate left. There is a slight straightaway ascent to the north, followed by a gentle curve. Large rock flakes cover the slope.
At the saddle, there is a road leading to a power tower. From this junction, leave the road, go off-trail, and shoot for the hill on the left. Follow the ridgeline, which heads east, and is clear and wide. Try and stick to the barely there use trail with faint boot prints. The climb is steady and a little steep. Just before the top, the ridge bends to the right.
Cole Point is a bulldozed flat spot with a little pile of rocks, a summit post, and a register. There are expansive views of Antelope Valley to the north and taller peaks to the east. Cali Christmas colors of olive green and buckwheat red coat the mountainside below.
Red Tape
Display your adventure pass.
Photos