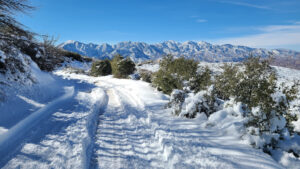 Objective: Summit Cleghorn Mountain, San Bernardino Mountains, California
Distance: 10.8 miles (out and back)
Peak Elevation: 5,333'
Elevation Gain: 1,960'
Difficulty: Moderate
Cleghorn Mountain is one of the westernmost San Bernardino peaks. Cajon Pass separates the San Bernardinos from the San Gabriels. With enough clearance, you can drive to the top.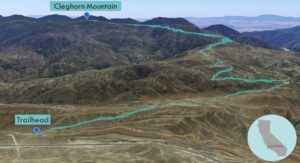 Directions to Trailhead
From the 210 E in Rancho Cucamonga, take exit 64A. Merge onto 15 N and drive 14.8 miles. Take exit 131 and make a right turn onto CA-138 E. Drive 3.6 miles to Cleghorn Road.
Directions to Summit
Trailhead: Begin hiking on Cleghorn Road (2N47).
0.5 miles: At the junction, keep left to stay on the road.
1.6 miles: At the junction, make a sharp left to turn onto Cleghorn Fire Road.
3.3 miles: At the junction, keep left to stay on Cleghorn Fire Road.
5.3 miles: Leave the trail for the summit.
5.4 miles: You have reached Cleghorn Mountain. Turn around and head back.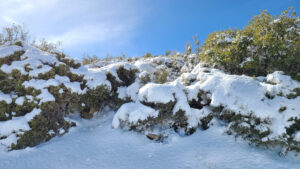 Trek Highlights
Cleghorn Road is an off-highway vehicle (OHV) route to Cleghorn Mountain. The road has hard-packed sand with lots of tread marks. After the first snow storm of the season, there is fresh pow on the slopes. Park at the staging area to shave one mile round-trip.
Take a sharp left turn on 2N47. The path rises gently. Without all the snow and ice, this hike would be a breeze. From the summit, there are amazing views of the tallest peaks of the San Gabriels and the Antelope Valley.
Red Tape
Display your adventure pass.
Photos