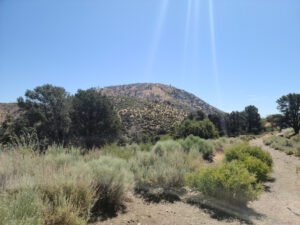 Objective: Summit Circle Mountain, San Gabriel Mountains, California
Distance: 2.4 miles (out and back)
Peak Elevation: 6,875′
Elevation Gain: 876′
Difficulty: Easy
Cajon Pass's diagonal slot separates the San Gabriels from the San Bernardino Mountains and connects Antelope Valley with the Southland. Circle Mountain is perched on the northeasternmost rib of the San Gabriels.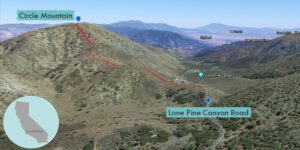 Directions to Trailhead
From the Angeles Crest Highway (CA-2) in Wrightwood, turn left (south) onto Sheep Creek Drive. Turn left (east) onto Lone Pine Canyon Road. When the road begins to go downhill, there is a dirt road on the left. Park to the right on the other side of the road.
Directions to Summit
Trailhead: From the gate, follow the firebreak to the summit.
1.2 miles: You have reached Circle Mountain. Turn around and head back.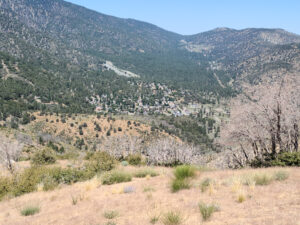 Trek Highlights
From the gate, the path dips a bit. Then the rolling firebreak weaves its way through some hills. The slope is covered in a purple haze, with lizards, wildflowers, bumblebees, and a stray horned lizard. Looking back, you can see Wrightwood down in the canyon. There is little to no shade, so bring adequate sun protection. Most of the elevation gain is in the last quarter mile. Near the top, there are some charred tree trunks. The summit is rather flat.
Red Tape
Display your adventure pass.
Photos