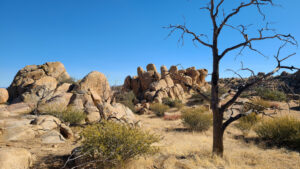 Objective: Summit Chaparrosa Peak, San Bernardino Mountains, California
Distance: 6.0 miles (out and back)
Peak Elevation: 5,541'
Elevation Gain: 1,500'
Difficulty: Easy
Chaparrosa Peak is on the eastern fringe of the San Bernardino Mountains. It is at the gateway between San Gorgonio Mountain, San Jacinto Peak, and Joshua Tree. After the hike, treat yourself to live music, cold brews, and 'cue at Pioneertown.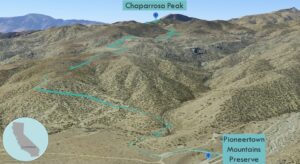 Directions to Trailhead
From the 10 E, after Cabazon, take exit 117. Drive north on CA-62 E (Twentynine Palms Highway) for 19 miles. At Yucca Valley, turn left onto Pioneertown Road and drive for 7.5 miles. Turn left onto Pipes Canyon Road, which is a smooth dirt road, and drive for 0.6 miles. Turn right and continue for 0.3 miles. Park here before the gate.
Directions to Summit
Trailhead: Begin hiking on Chaparrosa Peak Trail.
0.3 miles: At the junction, turn right onto the new Chaparrosa Peak Trail. Keep off the old segment.
1.3 miles: At the junction, keep right to stay on Chaparrosa Peak Trail.
2.25 miles: At the junction, keep left to stay on the trail.
3.0 miles: You have reached Chaparrosa Peak. Turn around and head back.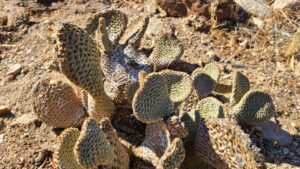 Trek Highlights
The trail is superb as it receives a lot of TLC from the wonderful trail angels at the Pioneertown Mountains Preserve. About 0.4 miles in, the Preserve has closed off an old trail segment. The old segment is on private property, so you need to keep out. The new trail follows the dry creek bed next to white and gold yucca stalks. The trail is well marked with wooden trail posts. There are about seven short switchbacks, in quick succession, that pull you up and out of the little canyon.
Below the saddle, there are red volcanic rocks in addition to tan and pink rocks. There are jumbo rocks, great for bouldering, like at neighboring Joshua Tree National Park. In some of the shady corners, you can find snow on sand. From the peak, there are magnificent views of San Gorgonio and San Jacinto.
Photos