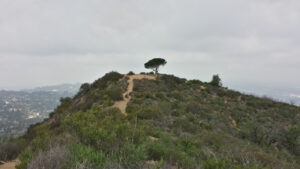 Objective: Hike to the Wisdom Tree, Cahuenga Peak, and the Hollywood Sign, Santa Monica Mountains, California
Distance: 3.2 miles (out and back)
Peak Elevation: 1,821'
Elevation Gain: 1,071'
Difficulty: Easy
From Hollywood Reservoir, Burbank Peak, Cahuenga Peak, and Mt. Lee are all aligned along the same ridgeline. The Wisdom Tree is supposedly the sole survivor of a wildfire in Griffith Park. Mt. Lee is home to the Hollywood Sign.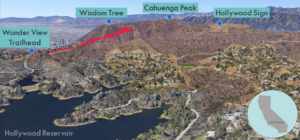 Directions to Trailhead
Head west on CA-134 until Burbank. Take Exit 2 toward Hollywood Way. Turn left onto W. Alameda Avenue. Turn left onto N. Hollywood Way and continue 0.2 miles. Make a right on W. Olive Avenue. After 0.6 miles, continue on Barham Boulevard. After 0.8 miles, turn left onto Lake Hollywood Drive. When the road becomes Wonder View Drive, turn right at Lake Hollywood Drive. You cannot park on Wonder View unless you live in the neighborhood, but there is plenty of free parking on Lake Hollywood Dr. all the way down to the reservoir. (There is no parking between 9 p.m. and 6 a.m. every night.) The trailhead is at the gate at the eastern end of Wonder View Drive.
Directions to Summit
Parking: From Lake Hollywood Drive, head east on Wonder View Drive until you reach the gate.
0.3 miles: Trailhead: Turn right onto the Wonder View Trail.
0.81 miles: You have reached the Wisdom Tree.
1.21 miles: You have reached Cahuenga Peak.
1.53 miles: At the junction, turn right onto Mt. Lee Drive.
1.6 miles: You have reached the Hollywood Sign. Turn around and head back.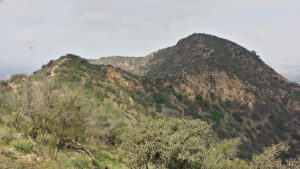 Trek Highlights
To the right of the power line tower are some steps that signal the true start of the hike. Most of the elevation gain is in the first mile. As you climb, enjoy the views of the Hollywood Reservoir, where you will notice the DTLA skyline and Griffith Observatory. When you reach the ridge, take the spur trail to Burbank Peak, and pay a visit to the Wisdom Tree.
Head back down and gently ascend the ridgeline until you reach the top of Cahuenga Peak (1,821').
Quickly descend in the direction of Mt. Lee's communication towers. There is a bit of a scramble down some boulders. The trail ends abruptly in the middle of the final stretch of Mt. Lee Drive. Walk to the top of Mt. Lee (1,708') for the best views of the back of the Hollywood Sign.
Photos