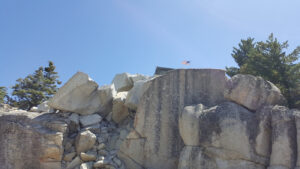 Objective: Summit Black Mountain, San Jacinto Mountains, California
Distance: 7.8 miles (out and back)
Peak Elevation: 7,772'
Elevation Gain: 2,700'
Difficulty: Strenuous
The well-maintained trail weaves its way through a boulder field. At the summit of Black Mountain is a fire lookout tower. From the lookout, there are great views of San Jacinto Peak and San Gorgonio Mountain.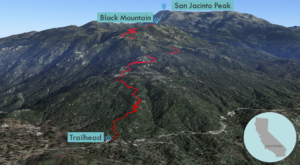 Directions to Trailhead
Drive east on the 210. Head east on the 10. At Banning, take exit 100 for CA-243. Turn right on CA-243 S/S 8th Street. Make a left at W Lincoln Street. Turn right on CA-243 S/S San Gorgonio Avenue and continue 11.1 miles on CA-243. Continue past the Vista Grande ranger station and drive for another mile. After the "Black Mountain Trail" sign, turn left on Black Mountain Trail and drive 100 yards to the end of a smooth dirt road. Park by the trailhead.
Directions to Summit
Trailhead: The hike begins on the Black Mountain Trail.
3.4 miles: Turn right at the trail connecting the Boulder Basin Campground to the summit.
3.6 miles: When you have reached the campground road, cross the road, and follow the ramp to the base of the fire lookout tower.
3.9 miles: You have reached Black Mountain. Turn around and head back.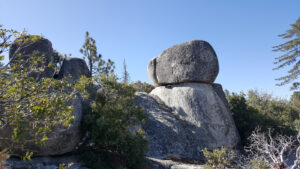 Trek Highlights
The path is immediately steep from the start. The lower western flank of Black Mountain is covered with a boulder field as if giants were playing a megalithic game of marbles. The boulders are cracked, split, and pulverized into gravel and sand. At some points, the trail is covered with so much sand it feels like you are moving across a beach. The way alternates between shady and sunny stretches.
After reaching the road, the trail skirts a final group of boulders. A paved path heads to the top of a stone wall, which is capped with the fire lookout tower. There are seven lookout towers across San Bernardino National Forest, and at each tower, you can ask for a squirrel card. From the summit, you can see San Jacinto Peak and San Gorgonio Mountain.
Red Tape
Display your adventure pass.
Factoids
There are volunteers at the lookout tower on the summit during the summer.
Photos