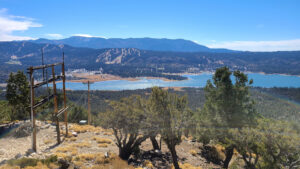 Objective: Summit Bertha Peak, San Bernardino Mountains, California
Distance: 7.2 miles (out and back)
Peak Elevation: 8,201'
Elevation Gain: 1,500'
Difficulty: Moderate
No snow at the Snow Summit and Bear Valley ski resorts? You can always go hiking and biking around Big Bear Lake. From Bertha Peak, you have a great view of the lake and Big Bear City on the southern shore. The trail starts just north of Fawnskin on the northern shore of Big Bear Lake.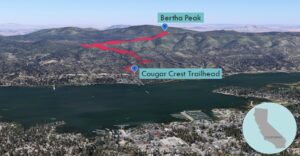 Directions to Trailhead
From the 210 East in San Bernardino, take exit 81 for CA-330 N toward Big Bear. Drive 15.2 miles to Running Springs. Continue on CA-18 for 12.3 miles. Turn left onto CA-38 W. Drive 5.9 miles. Turn left and park by the Cougar Crest Trailhead.
Directions to Summit
Trailhead: Begin hiking on the Cougar Crest Trail.
2.4 miles: At the junction, turn right onto the Pacific Crest Trail.
2.8 miles: At the junction, turn right.
3.5 miles: At the junction, turn left onto the spur trail to the peak.
3.6 miles: You have reached Bertha Peak. Turn around and head back.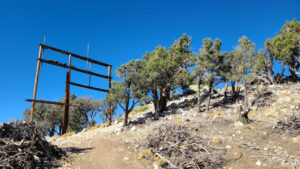 Trek Highlights
The Cougar Crest Trail starts above Big Bear Lake's northern shore. The path has a gentle incline and is filled with pine trees. There is the occasional cedar tree, with thick, red, vertical ridges along its trunk. The slightly rocky trail connects with the ridgeline and the Pacific Crest Trail.
After the junction, the trail heads east, parallel with the shoreline and you can see the lake.
There are a few switchbacks below the top. There is a broadcast station at the summit. Bertha Peak has great views of Big Bear Lake and Big Bear City.
Red Tape
Display your adventure pass.
Factoids
Big Bear was named after the grizzly bears, now extinct, that lived in the area. There are still thousands of black bears in the valley.
Photos