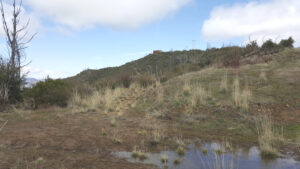 Objective: Summit Barley Flats, San Gabriel Mountains, California
Distance: 6.2 miles (out and back)
Peak Elevation: 5,600′
Elevation Gain: 1,000′
Difficulty: Moderate
The road to Barley Flats is smooth and gradual. At the top, you can explore a large green water tank. Along the way, golden strands of barley flutter in the breeze.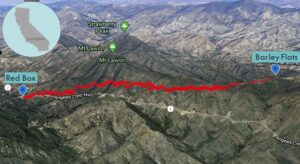 Directions to Trailhead
From the 210 East in La Cañada, drive 14 miles on Angeles Crest Highway (CA-2). Park at the Red Box parking lot.
Directions to Summit
Trailhead: From the Red Box parking area, hike east along Angeles Crest Highway for 100′.
100′: Cross the street and start hiking the Barley Flats Trail.
0.75 miles: Ignore the junction, step over stones, continue to follow the old roadbed, and stay parallel with the highway. (Do not turn left at the switchback heading to Mt. Lawlor.)
2.9 miles : Follow the old road east a short distance to where a water tank comes into view.
3.2 miles : You have reached Barley Flats. Turn around and head back.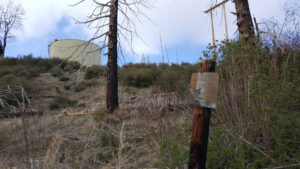 Trek Highlights
If you have an itch that needs rough scratching, then this hike is the one for you. The climb traverses through some very overgrown chapparal such as manzanita and toyon. You have to zig and zag up the trail to avoid the pernicious white thorns of the ceanothus and vile stabbings unleashed by the Spanish bayonets. On the ridge, the trail clears up and widens to telephone poles, little yellow mushroom caps, and bear scat. After you reach the road to the summit, you can see the green water tank and its staircase. The flat summit is 50 yards south of the water tank at the second "Telephone Cable Underground" sign. At the top, you can see the front range peaks of the San Gabriels along with golden spikes of barley.
Red Tape
Display your adventure pass.
Factoids
The fenced facility was originally built as administration and launcher facilities for a Nike Ajax (non-nuclear) anti-aircraft battery. It was operational between 1954 and 1961. The fire control radar system for the battery was located on the summit of Mt. Disappointment. The launch site magazines were destroyed, but the administration buildings remain. They were then used as a probation camp by Los Angeles County Sheriff until 1992. As of 2000, they are being used as a religious retreat named Camp Unity.
Photos