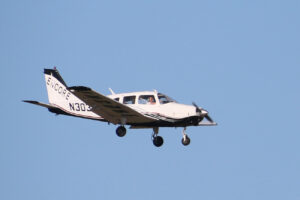 Humans have wanted to fly like birds since the earliest times. Take a flight lesson, fly an airplane, and go where eagles soar. Fly over Dodger Stadium, DTLA, the Malibu coast, and other iconic Los Angeles landmarks. At first you may see a white blur, and then the letters of the Hollywood Sign unfold in reverse. After buzzing past the Hollywood Sign, you can enjoy the view of the downtown skyline.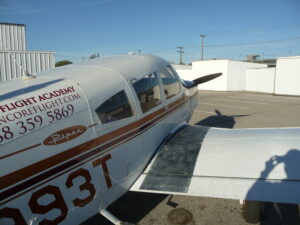 Preliminaries
Before the flight lesson, you learn about aerodynamics (lift, thrust, drag) in ground school. Some flight schools also have a flight simulator where you can learn to control a plane and practice takeoffs and landings.
Now for the flight lesson. Fasten the seat belt, adjust the seat, shut the door, and plug the headset into the console. Wait just a bit, the flight instructor has to run through a checklist in order to test the major components of the airplane before take off. Propellers start spinning. Air traffic control gives the green light and the plane taxis down the runway. The instructor pushes the throttle to full power, the plane rapidly picks up speed and feels light as a feather. The instructor pulls back on the yoke, and you are up in the air. When the lesson is over, the instructor takes control again and expertly lands the plane.
In Control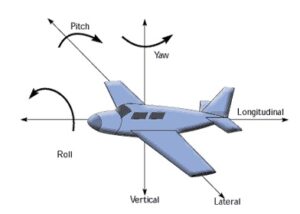 At some point, the instructor lets go. You grab the collective to maintain the current altitude. Your heels are still firmly planted on the floor with the toes on the foot pedals, poised to turn the direction of the nose, if necessary. Your right hand clutches the cyclic, which is pretty much a handlebar-shaped joystick. The flight instructor has a firm grip on the other end of the cyclic, just in case. At the Los Angeles River, you are given the go ahead to turn the helicopter toward the ocean. So far so good, steering the whirlybird while in forward flight is straightforward.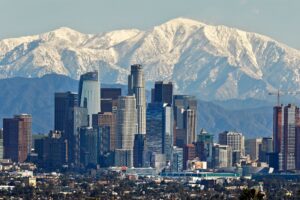 Directions
From LA, follow the 101 N. After passing the 405, take exit 21 for Balboa Blvd toward Encino. Turn right onto Balboa Blvd and drive 3 miles. Encore Flight Academy will be on your right.
Schedule a course with Encore Flight Academy: https://encoreflight.com/
Flight Information
Flight Time: 40 minutes
Aircraft: Piper Arrow