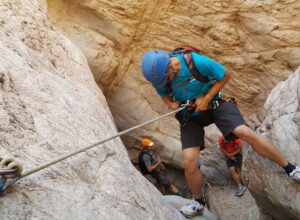 Objective: Canyoneering Rubio Canyon, San Gabriel Mountains, California, USA
Distance: 3 miles (loop)
Elevation Gain: 710′
Trip Length: 1/2 day
Rating: 3B II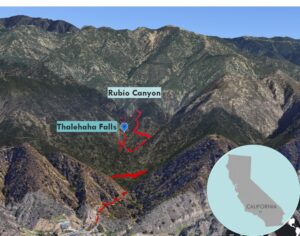 Canyoneering in Rubio Canyon is a great introduction to some of the technical climbing skills and swimming necessary for descending canyons. With LA's limited rainfall, if you go earlier in the year, water in Rubio Creek can make this a more traditional canyoneering experience.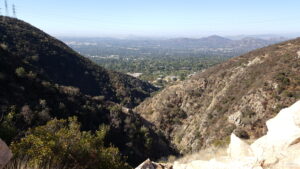 Ascent
The first half of the approach is a straightforward hike up the canyon that passes some rusty pipes bringing water down to a reservoir. The route soon becomes steep and covered by scree while you are on the lookout for rattlesnakes. From a rocky promontory, Thalehaha Falls can be seen in the distance. At this spot, you put on a harness and helmet. After another steep section, you have reached the conclusion of the ascent for the trip. There is a clearing with some bolts marking the entrance for the descent stage.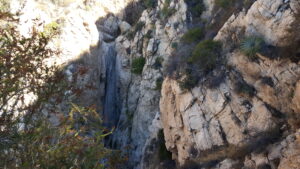 Descent
The downward traverse through the canyon is a series of eight rappels and short walks linking the drops. Each drop is anchored by two bolts. The first rappel is down a somewhat unstable, rocky, and dusty 80′ chute that could probably be down climbed. After scrambling past a fallen tree, there is a perch on a sloping ledge above another rocky and craggy 30′ wall.
The highlight of the descent is a dramatic rappel down the 100′ sheer face of Thalehaha Falls. The first step off the abrupt cliff's edge is exhilarating as you climb down the vertical rock of the (usually dry) waterfall. After reaching the bottom of the waterfall, your hands may become black and hot from the rope and the metal descender. Stick to the cool canyon wall to avoid the extreme sunshine.
There is a short 20′ sheer face. Then, we navigate another 20′ climb into a shady slot with slippery rock and odd angles. After a pair of 25′ descents, we make it to the final rappel, a 30′ drop that is next to the trail.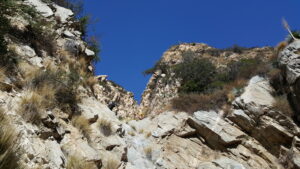 Directions
From the 210 E in Pasadena, take the Lake exit and turn left (heading north) onto Lake. After 3 miles, in Altadena, turn right onto Dolores Drive. Make a slight left onto Maiden Lane. Turn right onto Rubio Canyon Road. Turn left onto Rubio Crest Drive. Rubio Crest Drive turns right and becomes Pleasantridge Drive. Park at the corner. The trailhead to the Mt. Lowe Railway Trail begins at the northeast corner of Pleasantridge Drive.
Schedule a guided adventure with So Cal Adventures at: https://www.socaladventureco.com/classes/canyoneering-los-angeles-day-trip/
Red Tape
The Arroyos and Foothills Conservancy (AFC) closes the property from sundown to sunup, and monitors the area with real time cameras. To enter AFC property at night, notify https://arroyosfoothills.org/contact-us/ that you will be there at night and provide the date and number of people.
Gear
Day-pack: Two liters of water (or more in hot weather), sun hat, sunglasses, sunblock, warm hat, warm upper body layer (preferably non-cotton), raingear, gloves, lunch, extra snacks
Wear: t-shirt (preferably non-cotton), comfortable pants or shorts (preferably non-cotton), closed toed-shoes that you don't mind getting wet
Provided: helmet, harness, chest harness, rope brake, descender belay device
Route
R1: 80′, rocky and dusty
R2: 30′, rocky and craggy
R3: Thalehaha Falls: 100′, water depending on season, bump near bottom, need chest harness and rope brake on second rope
R4: 20′
R5: 20′, slippery rock, slot
R6: 25′, sun exposure
R7: 25′, requires swinging to the left at the bottom
R8: Ribbon Rock Falls: 30′