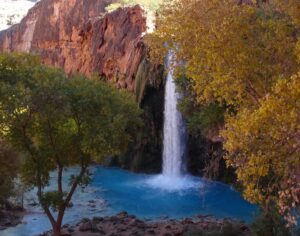 Objective: Backpacking to Havasu Falls, Havasupai Reservation, Arizona, USA
Distance: 20.5 miles (round-trip)
Elevation Gain: -2,400′ (descent to camp), 2,400′ (ascent to Hualapai Hilltop)
Trip Length: 3-4 days
Terrain: Canyons, rivers, waterfalls, forests, Havasupai village
Best time to visit: Whenever you can obtain a permit
Caution: Heat, dehydration, flash floods, camp critters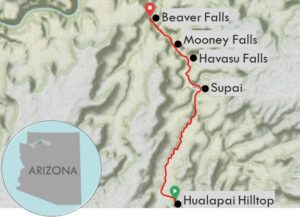 The red walls and cerulean water of Havasu Falls are magnets for seekers and explorers. Havasu Creek is a tributary of the Colorado River that has carved over time an offshoot from the Grand Canyon. The Havasupai nation has closely protected this paradise of pristine waterfalls, turquoise pools, and lush vegetation. By backpacking to Havasu Falls canyon and setting up base at Havasu Campground, you can access the transcendent delights and its neighboring natural phenomena.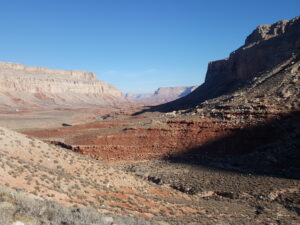 Descent into the Canyon
This trail doesn't play around. Immediately, switchbacks drop down the steep canyon wall. The trail flattens out after two miles. The path meanders through little red canyons and weaves through interesting red rock formations along soft sand. The Sun is out, and it is warming up.
This canyon is Grand Canyon adjacent, but it is not actually the Grand Canyon. It has been carved in a similar fashion in a much smaller scale by a tributary of the Colorado River, Havasu Creek.
Mule trains haul loads up, as choppers fly gear down to Supai. At one point, a barren of mules are galloping uphill. Twenty seconds later, a little black dog scurries after them with its tongue sticking out.
The red rocks are dripping with black water stains. Tunnels have been carved next to the dry creek bed. Parallel stripes of rock line the trail as well as round blob-shaped stone pockets.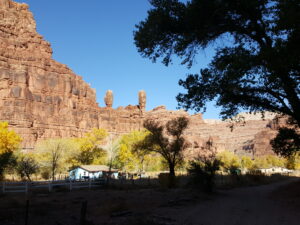 Supai
Distance: 8 miles (one-way) from Hualapai Hilltop to Supai
Elevation Gain : 2,400′ descent from Hualapai Hilltop to Supai
Supai is a vital village in the Havasupai reservation. Two red pillars on the canyon wall mark the gateway to Supai. There are simple homes, the campground registration office, a restaurant, post office, helipad, and a market. You must show your permit and register at the office before proceeding to the camp.
Supai is a nice spot to stop for lunch. Grab a frybread taco (Navajo taco, Indian taco, or Supai taco), which is a giant deep fried golden brown flatbread topped with ground beef, beans, tomatoes, lettuce, and cheese. The crust is crispy on the edges. The center is gooey and absorbs the flavors of the filings.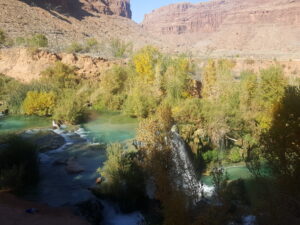 Fifty Foot Falls / Little Navajo Falls
Distance: 1.25 miles (one-way) from Supai to Fifty Foot Falls / Little Navajo Falls
Fifty Foot Falls are about 1.25 miles north of Supai. Little Navajo Falls are right below Fifty Foot Falls. This may be the best swimming spot of the area due to the large terraces and shallow, slow-moving water.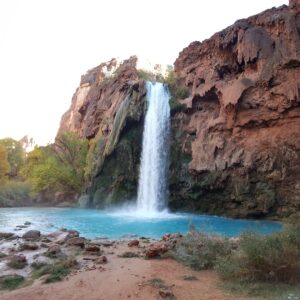 Havasu Falls
Distance: 0.25 miles (one-way) from Fifty Foot Falls / Little Navajo Falls to Havasu Falls
Closely wedged between two red sandstone walls, profoundly blue water, a roaring torrent, and a blanket of stars above, Havasu Falls is a mystical earthly paradise. Seeing this oasis firsthand surpasses the mythical appeal.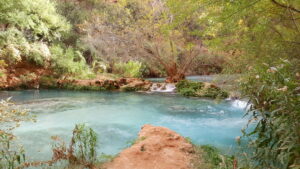 Havasu Campground
Distance: 0.25 miles (one-way) from Havasu Falls to Havasu Campground
The campsites are located between Havasu Falls and Mooney Falls on either side of Havasu Creek. There are little islands in the creek that are accessible via horizontal wooden ladders. During rainstorms, the islands may become flooded, so you should stick to the high shores. At Fern Springs, there is a faucet next to a stone wall with crystal fresh drinking water. From this camp, all waterfalls are accessible.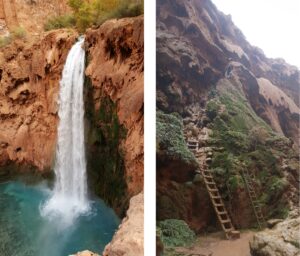 Mooney Falls
Distance: 0.5 miles (one-way) from Havasu Campground to Mooney Falls
The metaphorical rabbit hole begins as you climb down two dark rocky tunnels. This is not for the faint of heart. The way to the bottom is straight down the side of a vertical cliff. There are slippery bolted chains you can hang onto as well as ropes. Footholds are a mix of wet rocky knobs, a couple ladders, and a pole with notches. Once you arrive at the base of Mooney Falls, you can breathe again.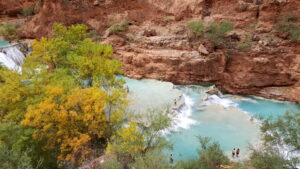 Beaver Falls
Distance: 3.75 miles (one-way) from Mooney Falls to Beaver Falls
Getting to Beaver Falls is a classic river adventure across soft red dirt paths. There are four river crossings, a romp through a blanket of flora out of a Jurassic Park scene, cliff ladders, and a rope swing swimming hole. Above a hillside of yellow leaves, a family of bighorn sheep is casually grazing. Beaver Falls is a series of descending white travertine walled terraces and cascades feeding excellent turquoise wading pools. Behind one of the chutes is a hidden grotto. If you are up for a challenge, the confluence of the Colorado River and Havasu Creek is a few miles further.
Directions
Head east on the 40. From Kingman, Arizona, head east on Route 66 for 57 miles. After Peach Springs, turn left on Indian Road 18. Drive for 60 miles until you reach the end at Hualapai Hilltop. There is a large parking lot with toilets at the trailhead. (You can stay in Peach Springs the night before or camp here. There is no water available at the trailhead.)
Red Tape
Campground permits are required and no day hiking from Hualapai Hilltop is allowed. Reservations for the entire year can be made every February 1st (but they run out within minutes): https://www.havasupaireservations.com/public/login
You can also look for last minute cancellations: https://www.havasupaireservations.com/account/campground/cancellations/transfers
At Supai, you must check in with the registration office on the right side of the trail in the center of the village. The office will provide a wristband that you must wear during the visit, as well as a tag for your tent.