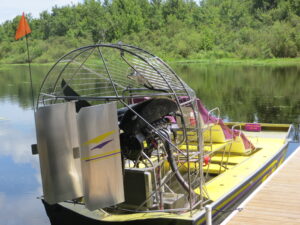 Go off the beaten path and experience something different in Central Florida. Go on an airboat ride in Lake Panasoffkee. An experienced captain will take you on a thrill ride across shallow swamps and lead you to backwoods wildlife. Look for alligators, hogs, turtles, and birds hidden in the lush foliage.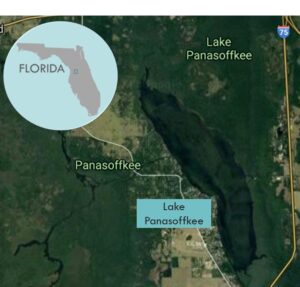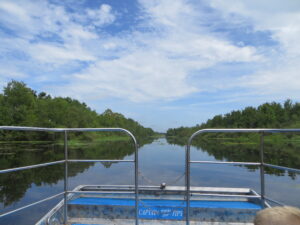 Full Tilt
The airboat's giant fan sputters at first and then quickly begins to purr in Lake Panasoffkee. The flat-bottomed boat glides smoothly across the water like a knife through warm butter. Then the propeller roars to a din so decibel-rich that you reach for the headphones. The giant fans propel a column of air at an astonishing rate. You will feel the rush of wind against your skin and everything in your periphery is a green blur. As the captain rotates the rudders, the airboat tilts and then gracefully veers toward the edge of the lake as water sprays up from the sides.
Lake Panasoffkee is miles wide yet only about five feet deep throughout, which makes an airboat the perfect vessel for soaring above the detritus of the shallows. But a swamp is not just a playground for airboat jockeys. It is an ecosystem ideally hospitable for fascinating Floridian flora and fauna.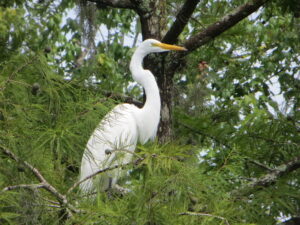 As you slow down near the water's edge, the airboat passes over lotus pads and little green bits of duckweed. Perched atop a bald cypress tree, a great white heron spots the boat and swoops across the waterway.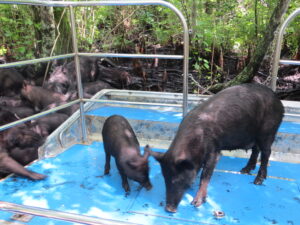 Scenic Wilderness
The airboat zips toward a narrow inlet surrounded by trees with swaying Spanish moss, reminiscent of hairy silver beards. The swamp contains butter frogs, fish, and wild boars. By a shore overgrown with muddy mangrove roots, wild boars scamper. The captain tosses corn kernels and feeds a couple of boars that have jumped onto the boat's front deck.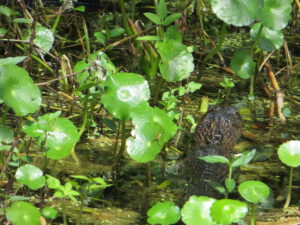 The airboat continues the survey of the lake shore in search of alligators. Apparently, alligators like to make nests out of mounds of mud. Near one of these mounds, the airboat stops on a dime. Eureka! A little gator shimmies through the murky, marshy water.
The wetlands of Central Florida are indeed a mesmerizing place – not quite water and not quite land. As a bonus, you can hold a baby gator after the ride.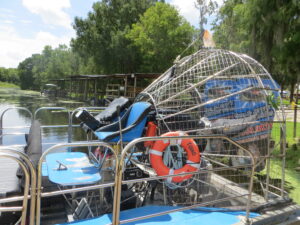 Directions
From the I-275 N in Tampa, drive 16.5 miles. Merge onto the I-75 N. Continue 45.2 miles and take the exit toward Co Rd 475. Keep left at the fork to continue toward Co Rd 475. Take County Rd 470 W to your destination in Lake Panasoffkee.
For an airboat ride, contact: https://airboattoursorlando.com/