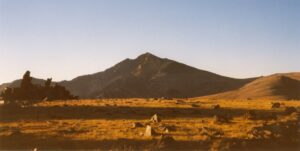 Objective: Summit White Mountain Peak, White Mountains, California
Distance: 14 miles (out and back)
Peak Elevation: 14,252′
Elevation Gain: 2,572′
Difficulty: Strenuous
White Mountain is the highest peak in the White Mountains range and the high point in Mono County. This fourteener is the third highest peak in California after Mt. Whitney and Mt. Williamson.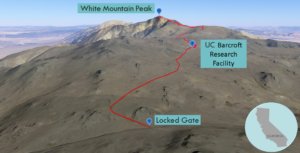 Directions to Trailhead
Take the 395 to Big Pine and head east on the 168. In 13 miles you will reach Westgard Pass and the junction with White Mountain Road. Turn left onto White Mountain Road and drive north until you reach the Barcroft gate, past the Ancient Bristlecone Forest. The pavement ends just after Schulman Grove (about 9.5 miles from the pass), and is replaced by a gravel 4WD road for the remaining 17 miles. (A 2WD car can make it across, but the drive takes over an hour.)
Directions to Summit
Trailhead: The trail starts at a locked gate.
2 miles: The trail climbs the slope to the Barcroft station.
2.5 miles: The trail reaches Barcroft Observatory.
2.75 miles: At McAfee Meadow, the trail dips a bit and then levels off.
5.75 miles: At the end of McAfee Meadow, the trail descends slightly and then heads sharply up a series of switchbacks.
7 miles: You have reached White Mountain Peak. Turn around and head back.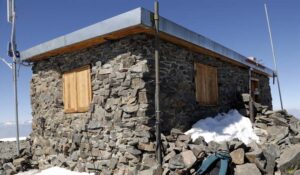 Trek Highlights
Hopefully, you have properly acclimatized already because the trailhead is at a whopping 11,680'. Via a dirt road, you quickly approach a hill topped with a tiny brown observatory. The University of California Barcroft Observatory was built in 1976 with a 62″ mirror telescope. The telescope was used to determine the best location for positioning the Keck telescope in Hawaii. The station also has an enclosure full of sheep that are skittish around hikers.
The next three miles pass in a straight line through the barren McAfee Meadow. Eventually you climb up another hill just before a final set of switchbacks ascending the southeast face of the summit. After climbing the windy, snow-covered switchbacks, the summit lab beckons you to the top of White Mountain.
Photos