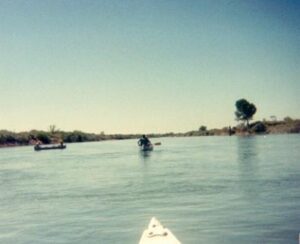 Objective: Canoe the Lower Colorado River from Blythe to Yuma
Distance: 58 miles (one-way)
Trip Length: 2.5 days
Paddling down a river is a summertime rite of passage. It reminds you of simpler times and freedom. Camp along the riverbank, explore uncharted islands, and splash along a sand bar. Canoe the Colorado River and set your own course. Sometimes you just need to disconnect and enjoy the journey. Be a modern-day Huckleberry Finn and see what adventures lie ahead on the river.
The Plan
Drive to McIntyre Park and camp for the night. The next morning, you load up the rental canoes and begin the trip. The canoe trip starts at McIntyre Park in Blythe, California and ends at Fisher's Landing near Yuma, Arizona. For much of this stretch, the Colorado River borders California and Arizona. Spend the next two nights on the river paddling and camping on sand bars. On the last morning, return the canoes. If time permits, you can visit Yuma before returning home.
Directions
Take the I-10 E. Take exit 241 for Intake Blvd. Turn right onto S Intake Blvd. Drive 6.3 miles. Turn left onto Peter D McIntyre Ave. The trip will start at Peter McIntyre County Park. You need to set up a shuttle between the start and the destination at Fraser's Landing.